Should Collective Bargaining
be Tolerated?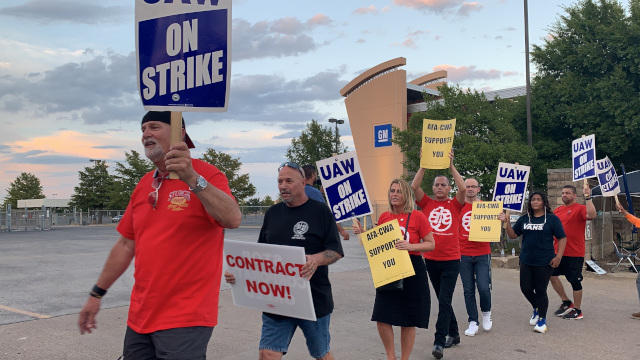 I find that when I voice my opposition to unions, particularly to liberals, I get a very strong reaction, generally by people far too busy screaming and throwing fits to make any attempt to bother finding out what on Earth I have in mind.
We have a problem that collective bargaining is meant to address. What is that problem? The problem is: We have a glut of certain types of labor, particularly low-skilled labor, such that the laborers cannot negotiate a decent wage as individuals..
Advocates of collective bargaining generally have low-skilled laborers in mind, because the issue is very pressing for them, since the market value of their labor is so low that it really isn't a living wage, so for them, collective bargaining is a matter of basic survival. And we find that, in most cases, highly-skilled workers aren't interested in forming unions.
One thing that we really have to bear in mind is that the vast majority of American workers do not currently belong to unions, and it hasn't been of the end of the world. Only 10.8% of US workers (34.8% in the public sector, 6.3% in the private sector) are in unions. So eliminating unions altogether would not be a huge change to the status quo, particularly in the private sector.
In a healthy labor market without unions, supply and demand balance one another out, where employees have enough options that employers are struggling to retain them, and living in fear of people quitting. The employers have an incentive to keep working conditions pleasant and safe, and try to keep their workers happy.
The problem with this is that American low-skilled labor is not that healthy. Low-skilled labor is currently so abundant that the free market has no hesitation to deliver a wage that is below what it takes to sustain human life, or at least is less than what we as a society would consider humane compensation. So we cannot just leave everything to the market, we must intervene somehow.
So how are we to ensure that these low-skilled workers are able to secure a living wage? Unions are not the only way to do it, there are several approaches that we can take. We should try to seek an approach that best meets the following criteria:
interferes with production as little as possible
drives up the cost of the good or service as little as possible, since that would reduce demand for it, killing jobs
the funding for the increased compensation of the low-skilled workers should come from the rich, rather than from the poor or from the general population
it should not undermine the bargaining position of laborers as individuals
There are several potential approaches we can take:
impose a high minimum wage
allow workers to form unions and bargain collectively
Directly subsidize low-wage income.
A: Impose a High Minimum Wage
There are several problems with a high minimum wage:
If the value to the employer of the work done is less than minimum wage, then the job ceases to exist.
Employers will pass the increased labor cost on to customers, which will reduce demand, killing businesses, and with them, jobs. Thus it fails to satisfy 2 above.
Because the increased costs are passed on to consumers, many of whom are poor, this fails to satisfy 3 above.
Increased labor costs make increased automation more economically feasible, killing jobs.
Due to the jobs loss, the individual bargaining position of workers is undermined. The increased minimum wage does absolutely nothing to improve working conditions, in fact it undermines them, since, after the number of jobs has been reduced, the employer knows that the workers are easily replaced if they quit. So this fails to satisfy 4 above.
Advocates of high minimum wage generally assert that the law of supply and demand is magically suspended in the low-skilled labor market, so a higher minimum wage will not kill jobs, and the increased costs will not be passed on to consumers. They cite short-term studies done on miniscule increases to minimum wage where the effects were not detectable against background noise. The whole assertion flies in the face of common sense.
B: Allow Collective Bargaining
To begin with, we should note that unions are not the same in all countries. In the US, our laws about unions were written in the 1930's by the FDR administration, and they pit labor and management at one another's throats, so American unions are particularly harmful to production. Germany has different labor laws that result in a much more collaborative relationship between labor and management, and they are able to massively export goods made with union labor, something the US basically can't do. So if we must have unions, it should at least be worth considering to revamp our labor laws to be less destructive, and perhaps learn from other countries.
There are a multitude of problems with unions and collective bargaining:
We observe a number of things that happen when companies get unionized in the United States:

It becomes nearly impossible to fire anyone.
It is in the interest of union bosses to deliberately foment a hostile relationship between management and employees in order to convince the union membership of the necessity of the union.
Since the union leadership wants to promote an atmosphere of unity among the workers against management, the union tries to undermine any sense of competition between the workers. In practice, this amounts to an assault on meritocracy. The union will resist any move to recognize and reward outstanding performers, insisting that compensation, perks, and layoffs all be determined strictly by seniority rather than merit. For example, there was a case where the government wanted to do nothing other than give extra money to teachers whose students did particularly well, and the teachers' union was opposed to that! Unless a worker wants to be promoted to management, which not everybody does (I don't), this leaves them with zero incentive to do anything better than a truly mediocre job.
Union members frequently become physically violent when they don't get their way.

Strikes are just disastrous to production. Without unions, an employer where compensation and working conditions are poor will observe workers quitting one at a time, so they have time to clean up their act, and production isn't suddenly shut down completely. In some industries, particularly essential services in the public sector like public transport or law enforcement, a strike is so catastrophic that the employers will submit to nearly any extortion the union inflicts rather than risk a strike.
Since unions not only raise wages but also reduce the quality of the work, nearly all of the problems associated with minimum wage apply to unions, including killing jobs.
Capitalism just doesn't work right when anybody corners a market. Bargaining evolves from a negotiation between two parties, both of whom have options, to a complete state of extortion by the monopolist. That's why we have laws against corporations colluding to fix prices -- it's immoral -- why should it be any different for employees?
Because the workers are being compensated and treated better than the deal they are able to bargain as individuals, the employer knows that they can be easily replaced. Union workers wind up in a position where they know that they have zero bargaining position as individuals, that all their rights come from membership in the union. This leads to union members being a bit fanatical, probably contributing to the violence problem.
Some union advocates say that the reason that there are fewer unions in the US than in a lot of other countries is because employers hired Pinkerton agents to shoot strikers in the 19th century. This was obviously wrong when it happened, but has no relevance to the current day. We had quite high rates of unionization in the 1950's and 1960's. Something changed since then.
What really happened is that that the UAW (Union of Auto Workers) had a monopoly on auto workers in this country and there were very few domestic auto makers, so the auto industry was profoundly non-competitive, and most Americans were in the habit of buying only domestic cars. Autoworkers were being paid completely out of proportion to their skills, and their work ethic was godawful. In the 1970's there were a couple of severe oil shortages, and especially after the second one in 1979, Americans began buying Japanese cars that were more fuel-efficient, and we found out that they were pretty good. Also, stories were circulating around the whole country about the diseased work ethic of the auto workers in Detroit, and how everyone in the auto industry was ridiculously overpaid. Unions got a really bad name.
In 1984, Walter Mondale ran for president, and part of his ticket was that, if elected, he would raise tariffs on imported cars and force Americans to buy Detroit's shitty, overpriced UAW-made cars. He was defeated by Reagan in a 49-state landslide, and that was the end of that.
A lot of states began passing "right-to-work" laws that made it harder to organize unions. Because unions raise the cost of production and undermine the quality of work, unionized companies in the private sector found that they just couldn't compete with imports or with their non-union American competitors, and their choice was either chapter 11, or flee to a right-to-work state.
The only part of the American economy where unions can really thrive is in the public sector, where organizations survive no matter how inefficient they become.
In China, they have unions, they just need permission to strike, which is never given. Such an organization could be useful, providing workers with an advocate in the workplace that is not harmful to production. I suspect that American employers wouldn't mind the presence of such organizations except that they fear that the organizations would evolve from advocacy to striking. If striking were illegal, we might see such organizations start to crop up in this country.
In the US, highly skilled workers have trade associations, which never strike but rather publish trade journals and organize conferences. Trade associations that don't organize strikes only really become problematic when they lobby the government to erect unnecessary barriers to entry to their professions.
A lot of liberals feel that if there's a drive to form a union at a company, anything management does to try to prevent it is immoral. From the company's point of view, unionization means that the quantity and quality of production go to pieces and costs rise at the same time, which, if the company faces global competition, or domestic non-union competition, is an existential threat.
C: Directly Subsidize Low-Wage Labor
We currently do this, to a very limited extent, in the form of the EITC (Earned Income Tax Credit), but it has some problems with it:
For one thing, as the wage-earner starts making $27,000 a year or so, it phases out very quickly, so much so that the worker doesn't experience an increase in take-home pay for awhile as, for every additional dollar they earn, a dollar of the EITC is taken away. It could be improved to taper more slowly.
It's not generous enough. If you make minimum wage, the amount of subsidy that you get isn't enough for most people to make ends meet. It could be expanded.
If we expanded the EITC into a full semi-UBI (Universal Basic Income) so that even people who aren't working at all get a certain amount of money, which slowly phases out as they make more, we could repeal the minimum wage altogether and still have low wage earners take home enough pay to get by. This would create quite a few new jobs where the value to the employer and to society of the work done isn't enough to justify paying the worker minimum wage. Society would benefit from the additional jobs being done, and workers would wind up with a better bargaining position as more employment options (including not working at all for awhile) become available.
This approach, and only this approach, meets the criteria that we outlined above pretty well:
interferes with production as little as possible: no strikes would be occurring, no one would be undermining meritocracy in the workplace or fomenting a hostile relationship between management and employees. Employers would still be able to fire particularly problematic employees, and the consequences of being fired would be less severe.
drives up the cost of the good or service as little as possible, since that would reduce demand for it, killing jobs: does not drive up the cost of labor to the employer or consumers at all.
the funding for the increased compensation of the low-skilled workers should come from the rich, rather than from the poor or from the general population: the subsidy would be funded by the income tax, 37% of which comes from the top 1% in income, 70% from the top 10%, and 97% from the top 50%.
it should not undermine the bargaining position of laborers as individuals: by adding all the jobs that pay less than minimum wage, and improving the option of just quitting your job and being unemployed for awhile until you find a better deal, the negotiating position of workers is greatly enhanced.
One objection is that we would have to raise taxes to cover this. Bear in mind that the minimum wage is, indirectly, a tax on the consumers of labor whose market value is below minimum wage, transferring the money from the consumer to the employee. Allowing collective bargaining is, similarly, a tax on the consumers of union labor, taxing them for difference between the cost of union labor and its market value of the labor had the employees been bargaining as individuals, and also taxing them for difference in quality of work done by union labor as opposed to the quality of work that would have been done in a more meritocratic workplace. So while more money would be flowing through the IRS, the actual costs borne by society would not be that much greater.
Republican politicians are particularly rabidly opposed to tax increases nowadays, but given that Democratic politicians are currently hell-bent on increasing union membership which would play havoc with production, perhaps the Republicans could be persuaded that these tax increases would be the "lesser of evils".
Another objection is that the EITC, though euphemistically named, is more obviously a handout, while minimum wage and collective bargaining both afford the worker more of an illusion of having honestly earned every dime they received. I really don't think we should adopt an inferior way of doing things for the sake of illusions.
One objection to a UBI, particularly from conservatives, is that degenerates who lack a work ethic will organize living co-ops where they share housing with a lot of people and live a very, very inexpensive lifestyle so they don't have to work. Perhaps the UBI could be tweaked so that, unless you have a disability, it runs out after awhile if you make too little money.